Skip to product information
Baby Vet Tech Milestone Wristbands Bundle
$41.99
No Compromises
In Quality

100% Satisfaction
Guarantee

Special Bulk Discounts
We offer Special discounts for 10+ products, personalization and custom designs.

We work with Clinic Managers and Owners for more than 5 years and we know how to make the process easy and make your staff happy!
Get your free, no-obligation quote today, tailored to your individual requirements.
Contact us in the chat buble or write us at support@iloveveterinary.com
or simly call us at +1 302 703 7253
See more about Bulk Orders
We want you to be 100% Satisfied 
Every item you order at I Love Veterinary is printed for you, on-demand by hand. That's what distinguishes us from other e-commerce retailers. We can't put returned items back on our warehouse shelves, and we don't resell them. However, we want to make sure you're 100% satisfied with your order. This is why you can rely on our fair return policy.

Damaged or Defect Products: 
Sometimes our products can break during transport or in some cases it happens that our quality control misses some production flaw. We are all humans and mistakes happen and we are sorry for that. Just send us a photo of the defect of the product and we will send you an exchange or refund ASAP. 
Simply return your product within 30 days of receiving your order if the size doesn't fit.
* Please note that you are responsible for covering the costs for returning the product to the address we provide
Shipping Policy:
We ship to all locations within the United States and internationally.
Orders are typically processed and shipped within 2-3 business days.
Shipping rates will vary based on the size and weight of the item(s) and the destination.
Expedited shipping options are available for an additional cost.

Celebrate the achievements of your budding veterinary technicians with our exclusive Baby Vet Tech Milestone Wristbands Bundle! In partnership with Vet Tech Sarah Parsons, we have created this unique product!
As a practice manager or mentor, it is vital to acknowledge the stepping stones in the growth and development of your veterinary team. These vibrant, eye-catching wristbands do just that, instilling pride in accomplishments and fostering a supportive work environment.
The bundle includes an assortment of 12 color-coded wristbands, each one featuring a significant milestone that your team members will achieve during their veterinary journey. From their first blood draw to passing the Veterinary Technician National Examination (VTNE), each milestone is a testament to their dedication and skill development.
The wristbands come in a variety of colors, each with their own inspiring saying:
"1st IV Catheter!" (Light Blue)
"1st Puppy catch!" (Light Green)
"1st Perfect Blood Draw!" (Red)
"1st Dental!" (Gray)
"1st CPR assist!" (Light Gray)
"1st Bandage!" (White)
"1st Anesthesia monitoring!" (Purple)
"1st U Cath!" (Yellow)
"1st Injection!" (Dark Green)
"Nailed it!" (Teal)
"Graduated Vet Tech School!" (Dark Blue)
"Passed my VTNE!" (Rainbow)
The wristbands are a fun, tangible way to track and share progress, creating a strong bond among your team members. They're also a fantastic motivational tool to encourage continuous learning and growth. The Baby Vet Tech Milestone Wristbands are not just bracelets - they're badges of honor, and tokens of recognition for the determination and hard work that goes into becoming a vet tech.
Whether you're a practice manager looking for a unique way to reward your team, or a seasoned vet wanting to honor the newbies' achievements, this wristband bundle is the perfect choice. Inspire your team, promote a positive learning culture, and make your vet clinic a place where milestones are celebrated with our Baby Vet Tech Milestone Wristbands Bundle!
*Please note that the colors on your digital screen might differ from the colors on the bundles you receive.*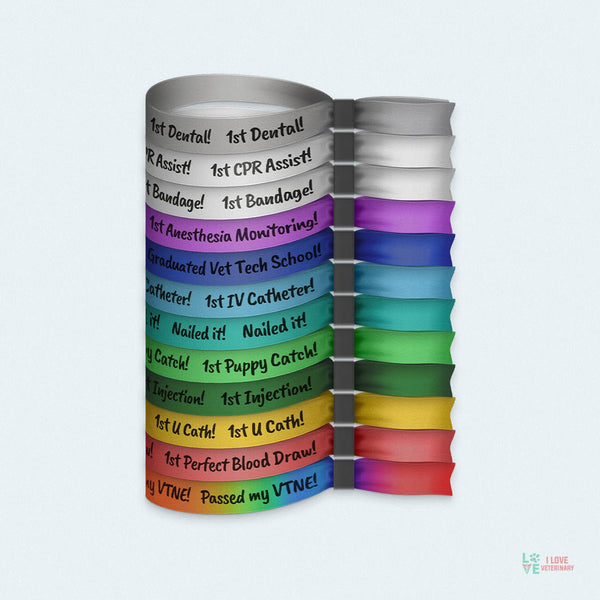 Baby Vet Tech Milestone Wristbands Bundle
$41.99