Skip to product information
Happy Holidays Gift Box
$39.99
No Compromises
In Quality

100% Satisfaction
Guarantee

Special Bulk Discounts
Celebrate the Holidays with the ultimate gift of appreciation – our Happy Holidays Gift Box, meticulously curated to offer a delightful experience for the unsung heroes in animal care. This premium gift box arrives ready to gift, elegantly packaged to make your vet, vet tech, vet receptionist feel truly special.
Save $20 by buying the Happy Holidays Gift Box instead of each item separately.
The value of the Gift Box is $61.99, and you get it ONLY for $39.99!
What's Inside?
100% Soy Wax Scented Candle, 8oz: Unwind after a busy day in the clinic with our hand-poured, 100% soy wax candle. Infused with calming lavender, clean cotton, or sea salt and orchid essential oil, it's the perfect way to de-stress and add a touch of serenity to any environment. Valued at $26.99

Set of 3 Stickers (4x4 inches): Express your identity and passion for animal care with our specially designed, high-quality stickers. Durable and glossy, they're perfect for personalizing laptops, water bottles, or veterinary equipment. # randomly selected stickers. Valued at $17

Thank You Card: A heartfelt card that encapsulates your appreciation. Blank on the back to allow you to add your personalized message, it's a small yet meaningful way to say "Thank you" to your favorite veterinary professional. Valued at $2

Tote Bag: A trendy and functional tote bag to help carry daily essentials. Made from 100% cotton, the tote features a chic veterinary design, making it not only practical but a true compliment to their important role. Valued at $17.99
$8 per gift box + $5 for every additional
We offer personalization and custom designs on some of the products. We can write a special message or add logo on the Greeting Cards.

We work with Clinic Managers and Owners for more than 5 years and we know how to make the process easy and make your staff happy!
Get your free, no-obligation quote today, tailored to your individual requirements.
Contact us in the chat buble or write us at support@iloveveterinary.com
or simly call us at +1 302 703 7253
See more about Bulk Orders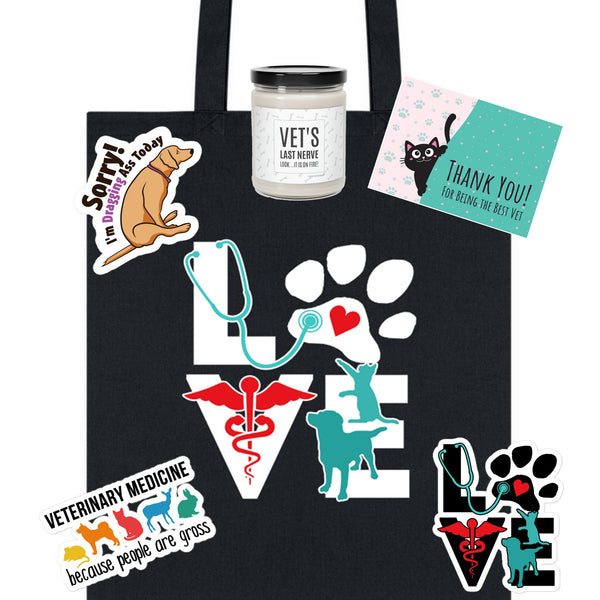 Happy Holidays Gift Box
$39.99